Sodium One Elite Pilots Club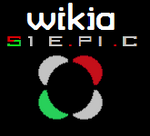 The Leadership welcomes you to this Wiki of Sodium One Elite Pilots Club.

This wiki will offer information for almost every detail of Sodium. As it is new there is little info available but be patient. Please make a profile of your PSN (SEN) account from the first day of stepping foot on home to the last time you logged one with something worth sharing to all. A profile template link is below please use it to make a good profile.

  Article Improvement Drive!

Help us by improving the quality of these articles. Within these links are a large number of Articles that need desperate attention. We are calling upon you, the contributing members of the S1 E-PI-C Wiki to help us in getting them up to reasonable standards.

These articles may already have some information, in fact it may be all that there is for some of them, but we can improve them even if we have to create information to add to it. But remember, it is imperative that they stay to being as "Sodium " as possible.

Members of the staff include:

The Sodium Comminuty is nothing with out its clubs. The Comminuty has 4 clubs linked to all together to form the Community.
We are currently maintaining 31 articles and we could use your help. Edit
[[1]] - The parent domain of S1 E-PI-C Wiki Edit
Ad blocker interference detected!
Wikia is a free-to-use site that makes money from advertising. We have a modified experience for viewers using ad blockers

Wikia is not accessible if you've made further modifications. Remove the custom ad blocker rule(s) and the page will load as expected.