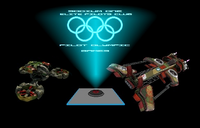 Here is the FIRST ever Sodium Pilot Olympic Games in history. There will be games that will include Sodium One and Two. There will be Medals to be awarded at each of the games. At the end of the Pilot Oylpmic Games the Pilot with the most medals will given the award for being the top pilot and will earn the rank of Champion Pilot of Sodium, (A brand new Rank that no-one has ever been awarded.)
Ad blocker interference detected!
Wikia is a free-to-use site that makes money from advertising. We have a modified experience for viewers using ad blockers

Wikia is not accessible if you've made further modifications. Remove the custom ad blocker rule(s) and the page will load as expected.